You just can't test slow, with UltraFlow. The UltraFlow is LeakMaster's latest mass flow leak testing innovation specifically designed for the air leak testing of exhaust or emission systems components. When your application requires extremely fast cycle times, we're confident in saying UltraFlow is the fastest, most repeatable way to leak test exhaust components…period! Optional Ethernet/IP module for seamless integration with Allen Bradley EtherNet/IP or other compatible devices, eliminates I/O wiring, reduces start-up time and hardware cost. Provides ultimate control and the ability to capture valuable leak rate data for data collection systems, critical for today's production environment.
A LEAK TESTER DEVELOPED FOR ETHERNET/IP
POWER. PERFORMANCE. SPEED.
CASE STUDY: Why Test Slow?
Good Parts Tested 50% Faster.
Bad Parts Tested 80% Faster.

Fill/Change – 2 seconds
Test/Detect – 2.5 seconds
Vent – .1 seconds
Fill/Change – 10 seconds
Test/Detect – 5 seconds
Vent – .9 seconds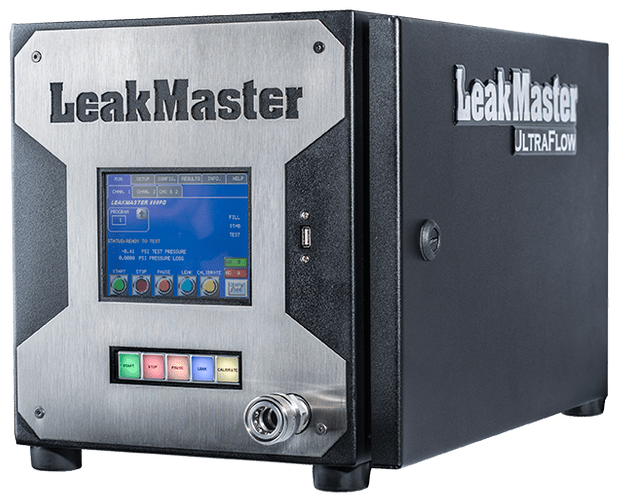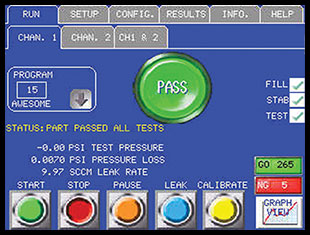 – The large, bilingual, multi-channel display
makes leak testing effortless.
– All pass/fail and in-process information are
clearly displayed for easy viewing.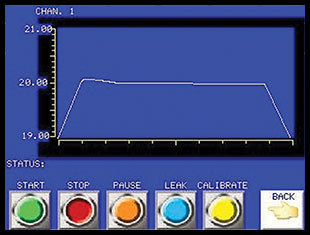 Real-Time Graphing Screen
– Eliminates guesswork when setting up a new
process, improves cycle time.
– Makes setting the proper test pressure, leak test
times and limits a breeze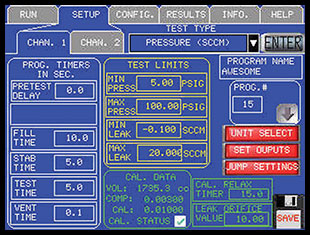 – The easy to understand layout reduces set-up time,
builds confidence, and eliminates confusion.
– The intuitive design gives unparalleled control,
without multiple set-up screens.
– All leak test timers and limits are clearly presented
in their proper order.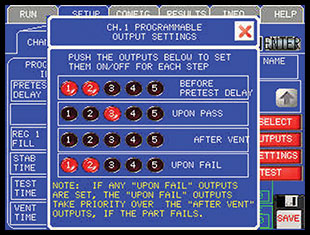 Programmable Outputs Screen
– Accessible time or condition based programmable outputs for tooling and simple automation
– All I/O is clearly displayed for easy viewing
– Proven control and monitoring of the leak tester and associated devices
– Built-in data collection with auto save for proven, effective data collection; without the hassle.
– The information is saved as a CSV file for viewing in Microsoft Excel or other text viewers.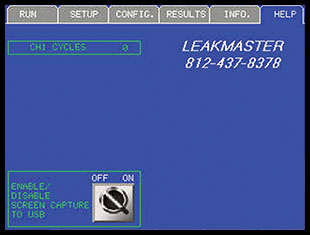 – The most advanced diagnostic tools to quickly
identify and solve issues
– Standard real-time screen capture function for
global set-up and diagnostic assistance
– Expert service and support staff