The Defender is LeakMaster's latest Pressure Decay leak testing innovation specifically designed to reduce integration costs and improve repeatability. The Defender is ideal for a variety of pressure/vacuum decay leak testing applications. It's compact design makes it ideal for applications with limited space. Standard Ethernet/IP module for seamless integration with Allen Bradley EtherNet/IP or other compatible devices, eliminates I/0 wiring and reduces start-up time and hardware cost. This instrument provides ultimate control and the ability to capture valuable leak rate data for data collection systems critical for today's production environment.
A LEAK TESTER DEVELOPED FOR ETHERNET/IP
SUPER PERFORMANCE & SPEED
VERSATILE FOR A VARIETY OF APPLICATIONS

NEW AND IMPROVED EtherNet/IP FEATURING "SLAVE MODE"
64 BIT PROCESSOR FOR SPEED & REPEATABILITY
24 BIT DIGITAL PRESSURE TRANSDUCER FOR EXTREME
RESOLUTION PRESSURE DECAY OR VACUUM DECAY MODE
EXTREMELY COMPACT DESIGN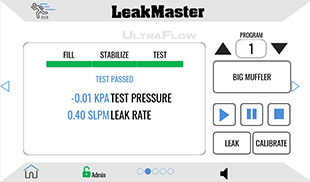 – The 5″ touchscreen display makes leak testing effortless.
– All pass/fail and in-process information are clearly displayed for easy viewing.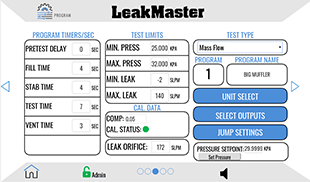 – The easy to understand layout reduces set -up time, builds confidence, and eliminates confusion.
– The intuitive design gives unparalleled control, without multiple set-up screens.
– All leak timers and limits are clearly presented in their proper order.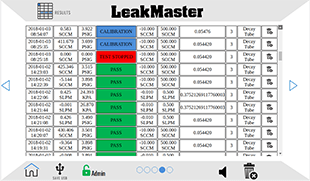 – Built-in data collection with auto save for proven, effective data collection; without hassle.
– The information is saved as a CSV file for viewing in Microsoft Excel or other text viewers.
Available Leak Test Modes
Leak testing is determining whether a product passes a specified leak limit. Leaks occur when a gas or liquid can escape a product caused by holes, cracks, insufficient seals, or permeable areas in a product due to defects in the manufacturing process. There are several different types of leak testing technologies available that can be implemented for specific applications. The chart below shows the different test types available for the Defender leak test instrument.
Finally, a compact pressure decay leaktester, with all of the integration features expected to test a huge variety of components such as;
PLASTIC MOLDED COMPONENTS
AUTOMOTIVE SUB ASSEMBLIES
| | Standard | Optional |
| --- | --- | --- |
| Programs Per Channel | 10 | |
| Number of Channels | 1 | |
| Test Type | Pressure Decay/Occlusion | Vacuum Decay |
| Inputs | (16) 24VDC PNP | |
| Outputs | (16) 24VDC PNP | |
| Communications | Digital IO, Ethernet IP® | Profinet |
| Data Collection | USB Flash, FTP | MasterCloud™ |
| Pressure Regulator | 2-100 PSIG | 0-2, .5-30, 1-60 PSI |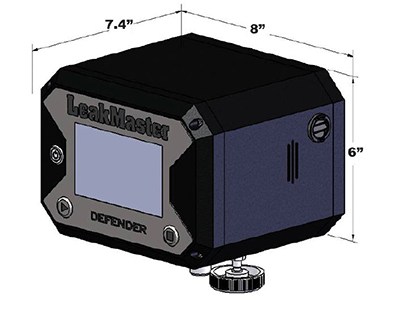 Learn more about the LeakMaster Defender
Contact us today to discuss your leak testing application.