Leak Testing Confidence
"The effect tooling movement has on test results".
Ah, the big day has arrived, the moment when you start up your leak testing machine. You've bubble tested the part and fixture and after a few tweaks your leak tester is calibrated, timers have been optimized and you are ready to test. All seems well initially, but after a few cycles you notice some variation in the test results. After many attempts to resolve the issue, you throw "the kitchen sink" at the problem, extending cycle times, opening acceptance windows etc. In the end, confidence fades without an understanding of the issue itself.
The Achilles heel for leak testing repeatability is "movement." In this edition we will touch on movement, its effect on repeatability and the overall confidence in the leak testing process. Common types of movement include:
Seal tool movement – If the seal tool is attached to an un-regulated cylinder or not landing on a positive stop, the seal tool may be continuing to compress the seal (which is changing the internal volume of the part as it is being tested). It is critical that the internal test volume stays as consistent as possible. Solutions include a rod lock cylinder, servo actuator or tooling offset to create a positive stop.
Base frame or seal tool deflection – Excessive base frame or tooling deflection causes inconsistency in part sealing and test results. If you measure excessive deflection (especially after pressurizing the part) the leak tester is also seeing this "movement." We recommend a deflection analysis to identify any potential issues prior to building. Leak testing machines must be rigid to be repeatable!
Seal(s) too large or the wrong durometer – Too large of a seal doesn't
conform to the part well (poor sealing) Too hard of a seal durometer and you won't achieve good seal compression (varying the internal volume). Ideally the seal should compress to a point of metal-to-metal (zero movement, the O-ring seal is fully compressed into the groove, part is sealed and in contact with the tooling plate).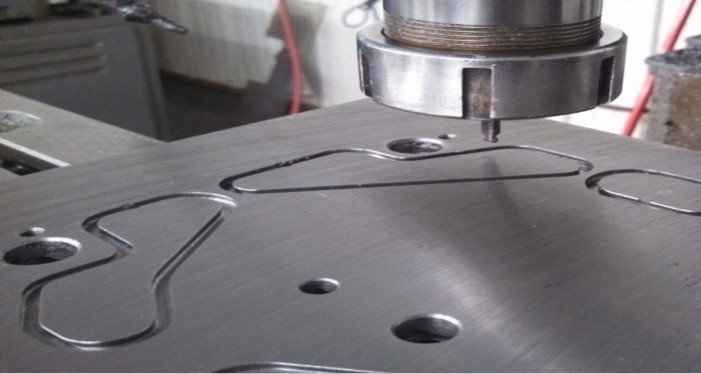 Insufficient press force – The press needs to have enough force to fully compress the seal while being subject to the kickback forces created during pressurization. Based on the surface area of the test part and pressure applied, the back pressure can be significant and a prime contributor to poor repeatability. Analysis is needed to determine the seal compression & kickback forces being generated to appropriately size the press & associated seal tooling required for the application. Sizing your air cylinders properly is crucial. Ensure the air cylinders that are driving the seal tools are sized to run at 60 PSI or less, so line pressure swings do not come into effect and cause unexpected cylinder movement. Secondly, LeakMaster recommends individual pressure regulators for each seal tool cylinder for optimum control.
Insufficient or uneven contact points – Part, clamp or seal contact variation causes test inconsistency and poor seal life. The part needs to be pinned to the fixture with consistent force across the seal surface. A simple feeler gauge can provide quick & easy reassurance the part is fully seated, without any bowing when the part is clamped into position. Any issues need resolved prior to long-term service.
With forethought and some quick calculations, you will avoid common leak testing pitfalls and on your way to a successful application. Happy leak testing!
FOR IMMEDIATE RELEASE
LeakMaster Receives Patent for B-Stable Leak Testing Innovation.
LeakMaster is pleased to announce we have been awarded a U.S. Patent for its B-Stable control feature. This powerful technology reduces leak test times by as much as 40% when compared to conventional leak testers. B-Stable also opens the range of applications able to be processed with air and addresses expansion & physics challenges as they pertain to mass flow leak testing.
Initially, LeakMaster set out to address part expansion & cycle time issues when testing elastic/expandable parts, and in the process built a new method to control part stretch within the Fill, Stabilize and Test steps.
The patent, which was filed in 2018, took four years to be granted and is part of a series of patents in the works for LeakMaster. Please contact your local representative or LeakMaster for more information on this exciting leak testing innovation.
Notable, Quotable, Quotes!
"You can have everything you want…if you help enough other people get what they want!"

-Zig Ziglar
A day will never be any more than what you make of it.

-Josh S. Hinds
You get the best out of others when you give the best of yourself.

-Harvey S. Firestone